'Yours may go fast but mine can go anywhere.' This 4×4 campervan will do just that. Its comfortable for up to 2 budget conscious travellers and features a spacious waterproof rooftop tent, all the camping equipment you will ever need along with built in storage for stowing your rucksacks and souvenirs. There are no limits to where you go and what you might discover.
All our Campers include the Condor Complimentary Eco and Bio Cleaning Kit, to help us ensure that the natural beauty of Chile is protected for future generations to enjoy.
This 4×4 campervan seats, sleeps and caters for 2 people so grab a friend or partner and start your wonderful adventure around Chile, Argentina or Peru.
Suzuki Jimny

Unleaded 93 Petrol 1.3L

Manual Transmission

5 Gears

Power Steering

4×4 Jeep

12v Power Input
3 Doors

Fuel Tank Capacity 40 Litres

Fuel Consumption (approx) 13km Per Litre

Length 3.65m

Width 1.65m

Overall Height 1.70m
Quick Set Up Rooftop Tent

Built In Storage & Kitchen Work Area

Basic Sleeping Bags & Inflatable Pillows

Exterior Camping Table & Chairs

Portable BBQ

Bio Cleaning Kit –

Be Eco Wise

Chile Copec Map
32 Litre Cool Box

One Ring Gas Cartridge Cooker

Pans, Pots & Cutlery

Fresh & Grey Water Storage – Be Eco Wise
Eco Pack – Be Eco Wise

12v Media Kit

Emergency Kit Inc Fire Extinguisher & First Aid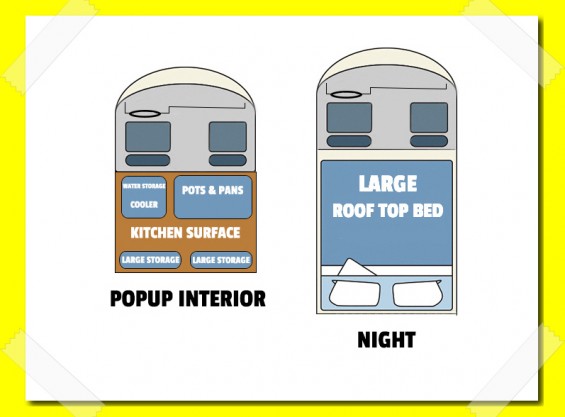 Suzuki Jimny

Unleaded 93 Petrol 1.3L

Manual Transmission

5 Gears

Power Steering

Air Conditioning

4×4 Vehicle

12v Power Input

3 Doors

Fuel Tank Capacity 40 Litres

Fuel Consumption (approx) 13km Per Litre

Length 3.65m

Width 1.65m

Overall Height 1.70m
Quick Set Up Roof Top Tent

Bedding Kit Including Pillows

Exterior Camping Table & Chairs

Portable BBQ

Solar Shower

Bio Cleaning Kit –

Be Eco Wise

24 Litre Cool Box

One Ring Gas Cartridge Cooker

Pans, Pots & Cutlery

Eco Pack –

Be Eco Wise

12v Media Kit

Emergency Kit Inc Fire Extinguisher & First Aid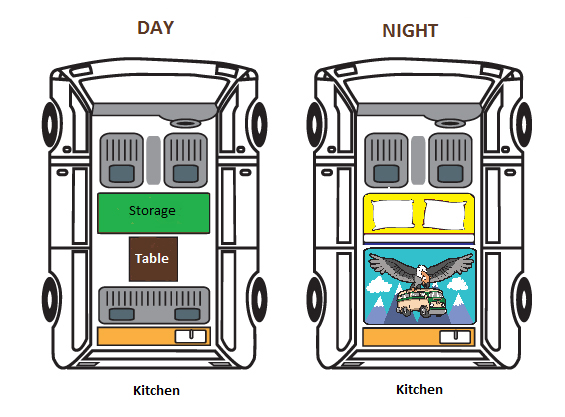 Suzuki Jimny

Unleaded 93 Petrol 1.3L

Manual Transmission

5 Gears

Power Steering

4×4 Jeep

12v Power Input

3 Doors

Fuel Tank Capacity 40 Litres

Fuel Consumption (approx) 13km Per Litre

Length 3.65m

Width 1.65m

Overall Height 1.70m
Quick Set Up Roof Top Tent

Built In Storage & Kitchen Work Area

Basic sleeping bags & inflatable pillows

Exterior Camping Table & Chairs

Portable BBQ

Chile Copec Map

Bio Cleaning Kit –

Be Eco Wise

32 Litre Cool Box

One Ring Gas Cartridge Cooker

Pans, Pots & Cutlery

Fresh & Grey Water Storage –

Be Eco Wise

Eco Pack –

Be Eco Wise

12v Media Kit

Emergency Kit Inc Fire Extinguisher & First Aid