Want to hire a Camper in Chile without breaking the bank? Check out our latest email only offers below.
Please email [email protected] or contact us via our contact us page to secure one of these amazing deals!
Don't forget, you better be quick, the early bird catches the worm!
COVID-19 Risk Free Booking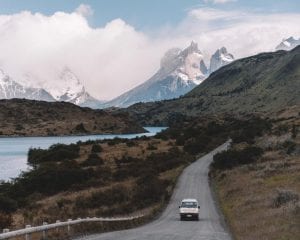 COVID-19 Risk Free Booking!
We are making an exception to our Rental Agreement Terms & Conditions and allowing all our affected customers to postpone their original Camper booking and change the date to any future period (subject to availability). We will provide you with a special voucher valid indefinitely……you can even exchange the voucher with family or friends!
Rent a rooftop tent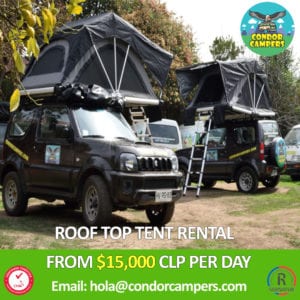 Rooftop tent rental from $15,000 CLP
Reserve a rooftop tent for your summer vacation.

Capacity 2 or 3 people.

Ideal for all type of vehicles, the tent is light, durable and resistant to all climates.

Values:
From 3 to 5 days: $28.000 CLP
From 6 to 10 days: $24.000 CLP
From 11 to 15 days: $18.000 CLP
16 days or more: $15.000 CLP
(Indicated values are daily)
Guarantee – $900,000 CLP


Available in Santiago, customers must provide their own roof bars or roof support.

Exclusive Email only offer – contact

[email protected]
Early 'condor' discount
5% discount on Daily rental fee
Use discount code – EARLYCONDOR5
'The early Condor catches the Campervan'. Book 3 months in advance to secure this great discount and guarantee availability for your chosen travel dates. This offer is for all months of the year -be quick though, time is running out!
BEST QUALITY GUARANTEED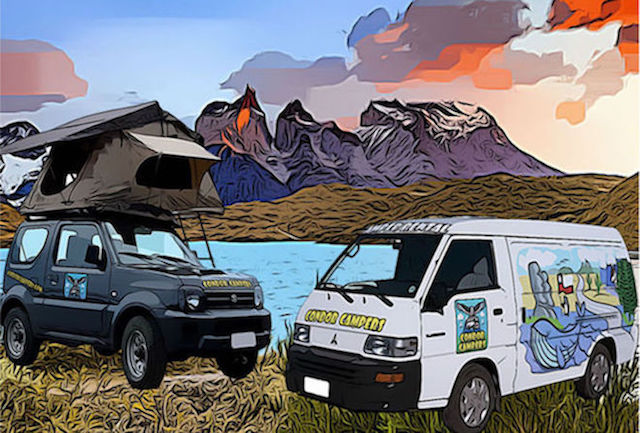 HIGH QUALITY CAMPERS AT AFFORDABLE PRICES
Your experience matters to us! We refuse to compromise on quality & only offer 2 camper models capable of dealing with Chile's tough terrain.
We design, build & test every camper for quality, taking pride in our Premium Customer Service, Thorough Vehicle Maintenance & Tough, Quality, Interior Design. Don't take the risk…book today!
The Next rounds on us!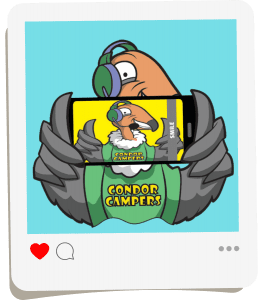 FREE Condor Campers bottle opener
Show off to your friends back home with THE coolest bottle opener out there!
Tag us in your social media pictures and the bottle opener is yours!
Tell everyone how GREAT we are! @condorcampers #condorcampers