New 2,800 km trail will create a spectacular scenic route
Condor Campers are celebrating with a few cervezas this week as the creation of a new 2,800 km hike through the Patagonian wilderness was 100% confirmed.
The revolutionary Route of the Parks of Patagonia will link 17 of Chile's national parks into one of the world's longest and most spectacular hiking trails. Snaking from the Pacific to the Atlantic Ocean, outdoor enthusiasts can now experience Chile's exceptional scenery and wonderful wildlife in one huge trip.
Picking up your Condor Camper in Santiago, Puerto Varas or Punta Arenas means you have all the freedom in the world to plan your epic drive and hike trip!
Funded by the Chilean government and the Tompkins Conservation Foundation, the new trail will help preserve Patagonia's natural beauty and show once again that Chile is a world leader when it comes to tourism that doesn't cost the Earth.
Over 60 communities along the route will feel the economic benefit of the new trail, while the government/ Tompkins partnership guarantees the countryside stays protected. Hooray!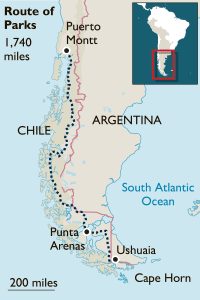 Take a sneak peek at the trail here, and if this makes travelling in Chile top of your travel to-do list, don't forget the eco-wise ethos that drives Condor Campers.
There's no cleaner, more environmentally-friendly Campervan hire in Chile than us. When it's time to put on your walking boots – give us a call